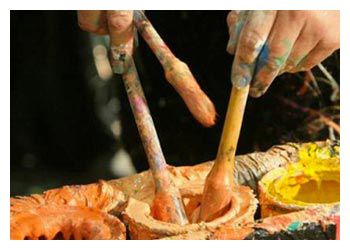 "My husband and I attended a fundraiser for the Cabrillo Marine Aquarium in San Pedro, CA, one Saturday evening in March, our first time to this positive and beautiful event. We enjoyed the silent auction and our lovely dinner, soon followed by the live auction which started with a performance-a real highlight of the evening. The music started, and it was John Lennon music. I'm a huge John Lennon fan and 'Love' was our wedding song.
Greg Adamson started, and at first I wasn't sure what I was watching as he painted in an intense manner to the music. Then I realized it was upside down, and he was painting John Lennon. I looked at my husband and said, 'I am going to get that painting.' It was amazing! After a bit of a bidding war, I won the painting, which Greg personally delivered to our home. It is almost six foot tall and takes up an entire wall. We absolutely love it. Greg is incredibly talented and wonderful to work with. We are going to have a coming out party for our new painting in July!" – Marla K., Playa Vista
"Toyota's North American Parts Center in Ontario, California celebrated Black History Month with a variety of activities that incorporated Education, Art, and Fitness. Gregory Adamson, an exceptionally talented artist, was invited to perform on February 23, 2009. He has a magnificent approach and flare when creating artistic images on canvas. The 3 masterpieces that he created for our event were Ray Charles, Kobe Bryant and Jimmy Hendrix. Greg's audience was truly engaged with wild anticipation while trying desperately to deduce what images would be transformed on his canvas. However, Greg shocked us all. As the images slowly came into view on the canvas, the audience suddenly realized that his images were being painted upside down. Everyone exploded in applause and excitement. It was a truly unforgettable experience." -Cheryl H., Toyota
"I want to thank you from the bottom of my heart for putting so much time and effort on this memorable experience."
"I will never be able to thank you enough for the smile on Vicente's face when he realized you were working on KOBE. I will treasure his reaction for years to come! Vicente was very pleased. He thanks you for the great effort you went to with all the background information in your skit; it got the crowd going. The Laker's shirt gave it real flair; Albert Einstein looked good too! Did you see how the millions of cameras starting pouring out when you flipped it over? I can go on for ever about this surprise.
Vicente and I will have to find the perfect place for our beautiful portrait! All the guests were blow away by your great talent and I know many have asked for your business card. Greg, once again, thank you. You could not have made Kim's gift and your wonderful talent more exciting or perfect." – Diana M.