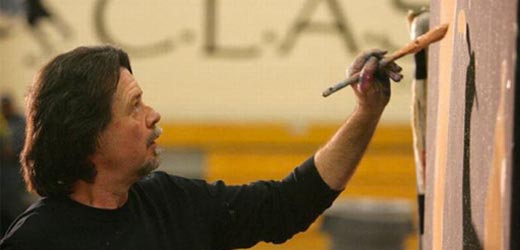 'Facing the Music'
Gregory Adamson is a renowned Southern California artist who has gained domestic and international acclaim for his mesmerizing, fast-paced performance art, in which he paints to music with bare hands or brushes, creating huge masterpieces in just minutes. His subject matter includes historical leaders, sports legends, music icons and other celebrities of pop culture. He has taken his 'Facing the Music' performance art from coast to coast and abroad, performing at concerts with major recording artists, and at regional and national political events. He has entertained for members of Congress and other national leaders, business groups, major charity fundraisers and festivals. His commissioned works are owned or exhibited by celebrities, elected officials, major corporations, public institutions, and professional firms (banking, architecture, insurance, etc.), and have been displayed in the Congressional Offices in Washington, D.C. His work has also been exhibited in New York, Canada, United Kingdom, China and Japan.
A highlight of Greg's international work was a performance for Olympic officials and dignitaries during the 2012 London Olympics. His clients across the music industry include major labels, broadcasters, musicians and the Grammy Foundation. His portrait of 2014 MusiCares Person-of-the-Year Gala honoree Carole King, follow past years' portraits auctioned at the same annual gala of Neil Diamond, Paul McCartney, Bruce Springsteen, Barbra Streisand, and Neil Young for the same event.
More importantly, Greg's thoughtful and unusual formula allows organizations to raise funds by auctioning the paintings he creates during his performances. He has lent his talents to scores of nonprofit organizations, raising hundreds of thousands of dollars. As he says, "I've always served on non profit boards, have done volunteer service with a lot of charities, and it occurred to me I can use my art as part of my mission and help organizations raise money or just be of service to them through my art. It's the thing I can do best for them."
As prices for his art have increased substantially based on his growing demand by collectors and organizations, he is able to benefit the charities even further.
Beyond his performances, Greg creates privately commissioned studio paintings—including portraits and other subjects, and devotes time whenever possible to his 'personal' works which are more abstract in nature. He also teaches sell-out painting workshops.
And as a daily endeavor—popular amongst his growing fanbase—Greg creates a "Daily Digital Painting" for his Facebook page. Done on his iPad, each artwork maintains a pure painterly quality, and offers a creative space for the artist to experiment and to connect directly with people…every day.